One of the most common questions we receive here at Settlement Quotes is "what's the process of selling my structured settlement payments?" Below we have created a diagram which outlines the steps involved in a structured settlement factoring transaction. Below the diagram we have also included a more detailed list corresponding to the diagram.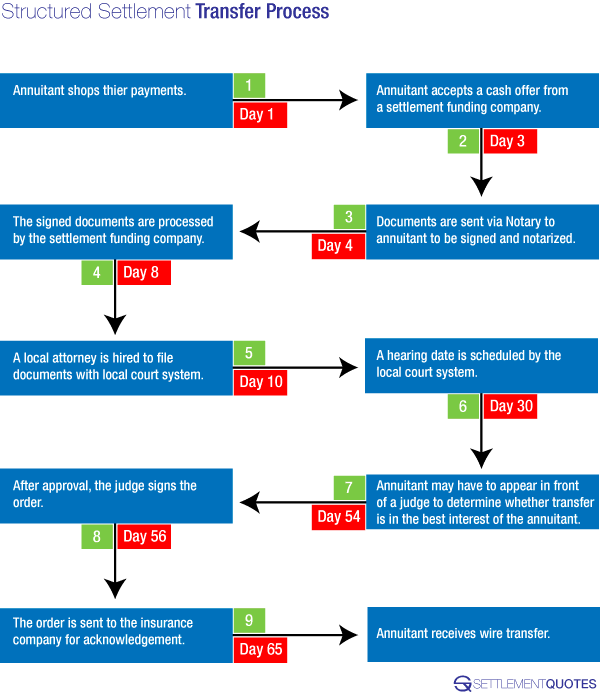 Step 1- Shop your structured settlement to several companies
Always shop your payments to several different companies to make sure you are getting the best deal. Another option is to use a marketplace like Settlement Quotes to shop your payments for you.
Check the Better Business Bureau of all the companies you are receiving quotes from. Some companies will provide quotes but will cancel prior to the court hearing because they offered too much money. If a company has several BBB complaints, this could be the reason.
Step 2- Accept the Cash Offer
Once you feel comfortable that you are receiving a great offer and that the company you're doing business with is a reputable company, accept the offer.
Next you will be required to fax in your annuity policy, settlement agreement or benefit's letter so the transfer company can verify your payments.
Step 3- Document Signing
Most companies will use some type of notary service or Federal Express to courier your documents to you in a timely manner.
In certain states independent professional advice (IPA) is needed in order to move past this point. An IPA is when a financial planner, attorney or other expert will give you advice on whether the transaction is in your best interest. Many financial planners will obtain quotes from other companies to ensure you are getting the best deal possible.
Most states have a cooling off period which is a period of time, usually 3-10 days in which you have the right to cancel. The transfer company cannot proceed with the transaction until this period is completed.
Step 4- Processing of Documents
At this point the transfer company will request the Benefit's letter from the insurance company to verify the payments you have the right to sell.
Some insurance companies will fax this document directly to the transfer company, but in most instances this document is sent via mail to the annuitant where you will have to forward it on to the transfer company.
Step 5- Local Attorney
Once the transfer company has verified the payment stream to be sold, they will hire a local attorney to submit the documents to your local court system.
Most transfer companies will pay for this, but there are some unscrupulous companies who will take this out of your final proceeds. Make sure the company you choose to do business with does not charge legal fees.
Step 6- Hearing Date Scheduled
This step usually takes 3-5 weeks. You will receive a letter via Certified Mail with the exact court date.
Step 7- Court Hearing
In most states you are required to appear in front of the judge where he will determine whether the transaction is in your best interest.
The judge will look at the discount rate, prior transactions, employment, and reason for selling when making decision.
Step 8- Approval
Once approved, the judge will sign the order approving your transaction.
Step 9- Acknowledgment
Once the judge has signed the order, the order is sent over to the insurance company to acknowledge that the payments have being transferred.
Step 10- Wire Transfer
Upon acknowledgment, the transfer company will wire funds.
Please let us know if you have any questions on the process of selling a structured settlement.