"Ostrov states that the factoring industry average effective discount rates are 16% compared to the average credit card rates of 21%."
In this author's opinion a 16% average effective discount rate for all structured settlement factoring transactions completed throughout the states over the past 12 months is most likely fairly accurate. This author arrived upon this figure for the following reasons
Transactions which have lump sum payments close to the current date always retain higher discount rates due to the fees associated with a structured settlement factoring transaction.
Uncompetitive transactions retain higher rates due to the nature of most larger companies.
The unwillingness to shop around by most annuitants and the low ball and readjust pricing models that most companies use to price transactions equates to higher effective discount rates.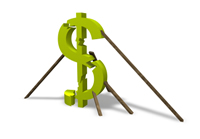 In this author's opinion, as more consumers become educated about the industry, the average effective discount rate will continue to decrease allowing for the secondary market to shed a positive light on structured settlements in general.
The comparison of discount rates to credit card rates is a bit absurd and seems to be a way for Mr. Ostrov to justify why his or other structured settlement factoring companies charge such high rates. Any company in the industry has the ability to provide rates under 10%. Here is another list of reasons this comparison is absurd:
Credit card interest rates are determined by an individual's personal credit score (and other factors)
Discount rates in factoring transactions are determined by a companies financial rating (most life companies retaining a A to AAA rating)
Another point was raised by John Darer in his post regarding companies such as Executive Life of New York, Monarch Life, Reliance, and Confederation Life. There is a higher risk for investors and funding sources to purchase rights to settlement payments from these companies. With the higher risk comes a limited amount of investors which equates to a lower supply/demand ratio. With the lowered demand for these payments comes higher rates which in return effects the overall average effective discount rate.
If a company usually provides rates in the 16% range for a payment stream from Metropolitan Life, Pacific Life, or New York Life then the rates charged for an Executive Life deal are increased by a few percent due to the complexity and risk of the transaction.
Settlement Quotes has completed 6 Executive Life of New York transactions in the last seven months with an average discount rate of just under 12%. This is an increase of 3% from our average discount rate of 9.18%. This increase is due to the limited number of investors interested in these transactions. Most structured settlement factoring companies are not interested in these types of cases and end up canceling them before the court hearing.
If you have any further questions on these topics, feel free to comment and we will do our best to answer asap. If you would like to find out a discount rate of a structured settlement factoring transaction, feel free to use our structured settlement calculators.