When a tort victim becomes a member of Settlement Quotes they are asked a series of questions to understand their payment stream, personal info, and what other quotes they have received. It is astonishing to see the discount rates that other companies offer.
Many times the information that the tort victim provides us is an initial quote from usually one other competitor. Instead of providing a quote that is only $500- $1,000 higher than their initial quote, we provide the tort victim quotes that have the lowest discount rates possible, while still getting the transaction completed within 6- 8 weeks.
Settlement Quotes has created a chart illustrating acceptable discount rates that a factoring company should offer in a structured settlement factoring transaction. This chart depicts a cash flow that has monthly payments ranging from 5- 30 years. Lump sum payments are slightly different.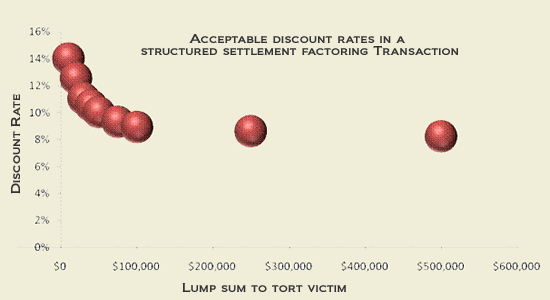 This chart should be used by judges to approve factoring transactions. If a company offers discount rates higher than the rates listed, the case should be denied! This chart is not meant to show how low the discount rates can get, but rather the maximum a discount rate should be. These rates still leave room, even for the largest companies to make a profit.