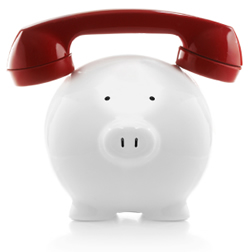 There seems to be a trend being set by certain structured settlement factoring companies to call an annuitant up to 10 times a day until they give in and accept a quote to sell their future structured settlement payments. This sales tactic is being used more and more to persuade (force) tort victims into a deal that is not in their best interest and inevitably hurts them in the long run.
Imagine that you have a structured settlement and you have been dealt a situation that calls for you to liquidate part of your future payments for a lump sum of money in 6- 8 weeks. You decide to go on the internet and complete a few contact forms to receive factoring quotes. Over the next few hours the companies start calling to provide quotes on your particular payment stream. You would think now that you have received your quotes you can finally make a decision whether this will be in your best interest, but many times this is NOT the case.
The next day you go about your normal day: dropping the kids off at school, going to work, picking up the kids from daycare, and finally heading home to the rest of your family. When you return to your house, you will find that your answering machine has reached its limit for excessive number of messages. The companies that provided quotes on your structured settlement payment stream from the day before have called you back and want a decision on whether you will accept their offer. This process will continue for weeks following the initial quote process.
Why do companies call repetitively?
The tendency and normality of certain companies in the structured settlement factoring industry is to low-ball the the initial quote and price match any higher quotes you have received. Lets say company A provides a quote for $130k and company B provides a quote for $133k, company A wants to know that they have been beat and will price match in order to stay in the running. This process can go on for weeks depending on the severity of the initial low-ball quote. In order for these companies to stay on top of the highest quote they need to call up to 10 times a day to price match your best quote, when the truth to the matter is that you should have received a legitimate quote of $180k right from the start.
Why is it worth a company's time to call several times a day for weeks on end?
With the tactic of low-ball/ price match, it can take several weeks to receive a legitimate quote of $180k. If an annuitant decides to accept a quote of $150k instead of $180k, the difference in price is profit for the factoring company.
Settlement Quotes does not believe in this type of sales tactic and does not call our clients harassing them to accept an offer. WE LET OUR PRICING SPEAK FOR ITSELF!